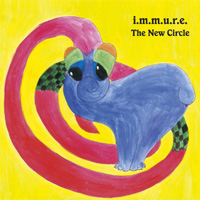 i.m.m.u.r.e.
is an experimental project from St. Petersburg founded in 2006 by Alexey Oleynikov. Before album
The New Circle
released by label Zhelezobeton project's music was released by net-label
DNA Production
. On this organization's site one can find several solo works of
i.m.m.u.r.e.
, they are rather interesting researches of abstract substance of drone ambient and experiments with digital noises. The new album is an elegant and courageous step towards psychedelics and melodies, and it seems to me that it noticeably reveals the creative potential of its author, more slyly operating with listener's mood. Undoubtedly,
The New Circle
can be called a new round in musician's development.
From the first, entering track "Yellow Town" music deepens you into psychedelic bath of reverberations and extensive drones. Oleynikov's voice diffuses with them, he monotonously declaims hardly distinguishable text. His voice will be heard further here and there, sometimes thoroughly supplemented with effects. That's easy to frighten kids with such "vocal", and not all grown ups will stay imperturbable if it's dark outside. And according to its horror percent, track "In Love With Dog" can be compared to Andrew Liles or Leafcutter John - masters of making people feel creepy all over.
The New Circle
forever shifts somewhere the dark sides of city suburbs where industrial buildings are mixed with houses-barracks, and rare street lamps throw dull streams of light tears over the dirty asphalt. Fast shifts are dangerous, time accounting slows down, it seems that night has come forever. Sometimes composition is led by melodies, like pulse of gloomy thoughts in mind, sometimes there appears even something like rhythm. But in general abstraction level always remains high.
Quintessence of the album becomes a wonderful 15-minutes track "Casket Full Of Dreams" which can be called an attractive trip to the collection of nightmarish dreams. Drone, howling, rumble, scraps of speech samples - it all boiling in waves of reverberations, slightly comes up over the Earth and takes the listener away to the open space, where of no doubt, there is what to think about.
-
Zhelezobeton