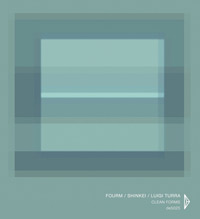 Those who are interested in minimalism in modern music perhaps know already the names represented in release by label Dragon's Eye Recordings. Last year Barry G. Nichols aka
FOURM
quitted his work as a reviewer on his own site WHITE_LINE to concentrate right on work with music. He keeps releasing greater part of creativity's results on his own within the scope of label WHITE_LINE EDITIONS. Italians David Sani aka
Shinkei
and
Luigi Turra
are also engaged in their small authentic label called Koyuki. Besides solo works and various collaborations these musicians had time for working hard together at album Yu for label Non Visual Objects.
If you want to hear this music for 100%, then having seen the people involved in this CDr, it's better to isolate yourself at once from any outer sound sources. Even using headphones you may lose the composition clue or get confused of which exactly sound is transmitted by the acoustic system, and which one comes from outside. In general it is a good field for experiments. Having no pronounced structure, abstract audio substances easily interlace with any other sound vibrations. Here can be noise from the street, noises of household appliances, talks of neighbours with heightened voices or some another musical disc played in parallel. Let's pay attention at least to disc's title -
Clean Forms
which as a matter of fact is a generalized image of all three musicians' creativity or if we go further, at some degree of sound minimalism in whole.
Three compositions united in the album are clean, almost transparent audio forms, filling of them is for the listener. Filling with sense, content, events - whatever you want. Like a colouring book for a kid, when simple lines turn into colorful and bright world. Filtered field records, drone, crack, microscopic rippling and rustles here can become a total sound universe for the scene fans. No wonders, no discoveries - it's just very beautiful and subtle.
-
Dragon's Eye Recordings
-
FOURM
-
Luigi Turra