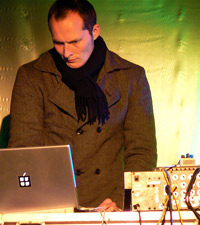 - You've recently been in Russia with Ben Frost at "Electromechanica" festival in St.Petersburg and gave a concert in Moscow. Tell us about your impressions. Did you like Russia? What was interesting while you were in our country?
I found Russia an entirely curious place, quite different to other countries I have visited. I guess both Moscow and St Petersburg are vastly different cities - historically, socially, architecturally etc - but I did feel they shared a certain sense of pace.
It was inspired to see so many people at the concerts, we had the chance to meet people described 'fanatics', which was truly a pleasure. It was also good to see that there's such a thriving community of artists, labels and promoters all working to bring about more awareness of this music. In Moscow we had a chance to talk with Dmitry, the label owner of Monochrome Vision, and he offered some great insights into what's happening in Russia presently.
I guess for me one of the most interesting experiences was visiting a flea market some way outside St. Petersburg - it was quite a vision.... beautifully chaotic!
- There were many interesting musicians at "Electromechanica". Maybe some of them were specially notable for you?
It's true, electromachanica does present an eclectic array of artists and I think hat's what has made it such a well-respected event.
Speaking purely from a personal perspective it was really a pleasure for me to hear concerts from my friends Ben Frost, Gudrun Gut and Machinefabriek - the sound system was really made for such a good experience! There were quite a few other acts I enjoyed, but having the chance to hear friends perform in front of a good audience on such a powerful sound system was really great!
- You often travel and give concerts. Which interesting things happen in your life now? Maybe some tendencies?
I have been traveling more and more this past few years... And I do enjoy what it offers. For me it's often very inspiring to get a close look at new and emerging musical scenes - like that in Russia or perhaps in China for example. I am also greatly inspired by the difference in culture, food, landscape and other aspects... It's also of course a real pleasure to perform concerts for new (and old) audiences...
- Tell us about Australia. What is the difference between their mentality and mentality of the Europeans or north Americans for example? And how does it influence the musical scene?
It's interesting, this tour my wife and I have been thinking a lot about this idea of the 'old' and 'new' world and how existing in one or the other impacts on your outlook and the way (in some respects anyway) how a society functions/changes/grows. I think one of the main things about being in Australia is that we are quite free/devoid of history - the country is very young and that means that there's a kind of freedom there - a blank slate so you need perhaps to invent your own frame in which to exist. Take experimental music - the history of that in Australia is in some respect far less and shorter than in parts of the USA or Europe - it's a blessing and a curse.
I think one thing that is great about Australia, though this is less so with the net and globalised tv etc - is the isolation that can occur, which means sometimes there's chances to allow things to grow and transform without much interaction with outside influences... I think climate also plays a role in the way Australians interact with the world around them.
- Your two albums "For Varying Degrees Of Winter" and "A Colour For Autumn" are dedicated to seasons. Are you planning to proceed this line and record the spring and summer albums in the course of time?
Yes, this is in fact one of the series of works I am presently working on. The next record in the series will be summer and then spring after that. That said I think it will be sometime before the next work in this series comes to fruition...
- And by the way which weather do you like most? Do you like snow?
For me actually I enjoy most environments - I think each of them has a quality that makes them unique and interesting to experience. I'll admit right now I am looking forward to heading back home to summer... Seeing my possums that live on the deck and my little schnauzer!
- Do you have at the moment musical ideas which you'd like to realize, but still due to some reasons you haven't? What new would you like to try in your creative work?
I'm fortunate that often there are ideas that I haven't to realized yet. Presently I am spending a lot of time thinking about the follow up to Kiri No Oto - thinking about ways I can expand those ideas, as well as introducing a range of other ideas that will shape the compositions.
I also find that locations and environments are fairly central to large sections of my work. I am presently headed to Antarctica to work on a project there with my friend and musician Werner Dafeldecker. So each time I visit a new location I almost always find interest sonic phenomena that are crucial for inspiring new works.
- Something from terminology and classification: what do you think, can SOUND be MUSIC? And in general, what is "music" as to your mind? Do you produce MUSIC or something different?
For me there is no difference between sound and music. The qualities of sound I almost always find are 'musical' in nature - whether that be temporality, tone, pitch, dynamics etc. I can listen to hydrophonic recordings from the coast of Queensland or a psych folk group from Japan and find both as enjoyable and inspiring as each other. The detail of the sound matter is what I am interested in - the unique qualities or aspects that make a particular sound or combination of sounds engaging.
- Concerning your label Room40. Do the releases of the label have any mission? Do you put into Room40 releases some sense unnoticeable on its surface or you just do your best to release what you like?
I do like to think that the label is fairly carefully supervised. I spend a good deal of time thinking about ways in which the releases might be structured to make links and through points for people who listen to the label for an extended time.
If you look at the way the catalogue has developed, you can seem certain streams of sound developing - the ambient works for example that DJ Olive's trilogy of sleep records have been the centre point. Also if you look at the left learning song works from artists like Tujiko Noriko or Tenniscoats, there's a connection there that we have grown into another label in fact - Someone Good. Also the electro-acoustic records we've published form an important stream for the label.
The element that ties it together is something that's reflected in the history of the name Room40 - I like to think it's a place where people of various approaches to sound come together - what links them is the absolute interest in sound and their abilities to dig deep into their particular area of sound.
- Which experimental labels' work are you interested in? And in general do you manage to listen to much new music, follow what is going on?
I do listen to a lot of music, but not all of it new - in fact recently I've been increasingly looking over my shoulder so to speak....trying to hear what has come before. I admire a great many labels - all of them creating a longevity to their work.
- You create music, rule your label, travel... How do you manage to do that all? ;)
I take a deep breath every morning :)
-
Lawrence English
-
Room40
january '10