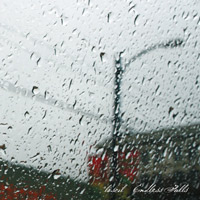 Perhaps in creative work of each musician there comes the moment, when after release of some especially successful album all next albums are in some way compared to it. For me such an album by Canadian project
Loscil
became Plume, though I can't compare it to the new record
Endless Falls
. After four-year pause Scott Morgan represents to the world his fifth full-length album. It came out very introversive and a little bit depressive. Yes, here we also hear the specialty dub notes and monotonous drones, though the energy and the mood changed totally. Some people will like it and some people won't, and only one thing is clear -
Endless Falls
is not the development of previous ideas, but to my mind, it's an attempt to research the new emotional aspects of ambient music. The title excellently reproduces that what is happening for about an hour. Endless Falls - maybe the state of soul can be called so. While I was listening to this album I couldn't help feeling the sense of pleasant melancholy and slight sadness. The first and the last thing which we hear is the sound of rain, the indubitable fall attribute. Through the usage of this classical circular scheme, when in principle we return to that point from which we started,
Loscil
conveys the title not only through the mood but also through the composition. In the album there are no run-of-the-mill tracks, what is more, I would point out a pair of tracks. "Dub For Cascadia" is perhaps the most "Plumeish" track. Light dub vibrations pleasantly swing you on their waves bringing you faraway. Though "The Making of Grief Point" became the real revelation for me. The last phrase in Dan Bejar's monologue "It is done" empties the sound space round the listener, leaving alone with silence for some time... But the sounds of rain start reaching our ears. For the next time we visited the world of endless fall. Music of
Loscil
always has some hypnotic influence, as if the rest of the world came to the background and in this respect
Endless Falls
is not the exception.
-
Kranky
-
Loscil