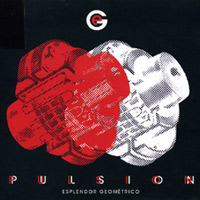 Album
Pulsión
by headliners of the Spanish industrial scene appeared in 2009 and at once attracted attention of almost all fans of this music and those who are in the theme. To my mind, if we speak about serious industrial music and about music in general, team
Esplendor Geometrico
takes its separate unique space, these guys have what to say. During a long period of time, much earlier than there appeared such labels as Staalplaat, Ant-zen and Hands, guys from EG were realizing their creative ideas and projects to their utmost. And now, listening to album
Pulsión
for many times you can for the next time wonder at the forms which can be taken by music for its realization coming through the hearts and feelings of musicians. This release is one of the bright and unforgettable examples of that.
Spanish experimental electronics and industrial always considerably differed from the rest electronic music. Industrial from this warm country stands out with its dry minimalistic but dense sound. In it there are no metal clanging track of German all-terrain vehicle, there's no parody sound of American synthetics, all is properly thought over and created. The sound leaves space for the listener in the best way, it doesn't press with its dense metal noise curtain and besides that all, it is odd and very attractive for me - in the works of Spanish musicians there is much internal experience and psychedelic. It becomes evident not at once, but you can't pass by it. Early or late any listener of such music will notice and appreciate this element. And one more little detail - Spanish music is difficult for primary perception, but its transmission to the listener is very sincere and straight. Later, after repeated listening a person who's interested in it will start seeing and hearing rough noises, otherworldly sounds and voices, invisible lines and tracks for other instruments. But we didn't digress from EG and their album
Pulsión
. Let's return to the theme.
The release starts with composition "Japo" - it's a wonderful fiery explosive cocktail of hypnotizing rhythms and human shout who got into the wheel of bourgeois system destroying its essence. Existence in its pure form!
Track-hymn "Joven Comunista" proceeds the main theme of commandante - legendary revolutionary samples, nevertheless laid on hypnotically looped rhythms of techno-shamans. Capitalism is bad, socialism, communism are good, but anarchy is even better! Here we can quickly deepen into the whirl of hidden otherworldly sounds, hold your breath not coming up until the full ending of the track.
The next composition "Michi Michi" knocks anybody off feet, who is standing on those very feet, in music appears clear drive, such real feeling of Muslimgause presence with its percussion and Arabic samples from Middle East. New crazy intifada happening this time not far away but in your own head.
"Sistema De Emision" is a balanced serious theme, temporal armistice in aim of redeployment of inner powers or further marching to the annihilation gap. Grotesque, aggressive and truthful, Stanislavsky would, of no doubt believe! Everything is too true and not taking into account the neighbors on the scene.
I think this text is enough to make interested those who are already interested and not interest those who are uninterested. And later on we'll proceed researching of unknown sound territories, the vector to which is made by talented guys from Spain.
-
Geometrik Records