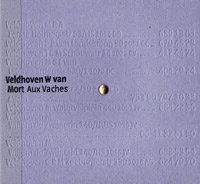 At the end of 2009 the series Mort Aux Vaches by label Staalplaat was widened by one more release. This time for VPRO played
Wouter van Veldhoven
, a young musician from Netherlands. He actively uses various analogue techniques, though besides that all the centre of his creativity became several reel-to-reel taperecorders. I'm sure that they add their own charm to abstract, ambient music of this person. Find the photos of music author's concerts or visit his site - only the view of the section with such archaic devices can be a great aesthetic pleasure.
Hissing, rustle and clicks while sounding of three tracks from Mort Aux Vaches interlace into one soft pillow, on which comfortably settled long-drawn-out moans of melodica, ring of xylophone, snatches of string instruments and other unidentified sounds. Noise artifacts of analogue monsters are situated strikingly close, it seems they start touching your body, gently touch and prick skin on face and hands. Very intimate situation disposing to rest and submission yourself to dense, voluminous thought. The sounds of this music are like dusty sun ray in a dark room filled with smoke of long thoughtfulness - matt, rough, warm and very sad. In the cloud of acoustic abstractions one can recognize the shades of some releases by Rutger Zuydervelt (aka Machinefabriek), but it makes me glad that
Wouter van Veldhoven
presented his original theme, not copying anyone.
-
Staalplaat
-
Wouter van Veldhoven