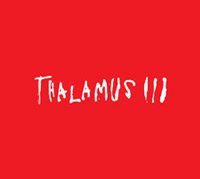 Scientific-anatomical word
Thalamus
written on the red cover is the symbol and the title of Russian festival of postindustrial music. An interesting fact is that only in 2009 organizers of KultFront decided to engrave the events which took place four years ago during the third Thalamus fest by releasing of double CDr. Though represented on disc material is not the records of live concert, music of all the projects are sorted in the order of their concerts that night. Earlier unreleased material of electronic musicians from Russian musical underground may be interesting to anybody who is at least somehow interested in industrial experimental art.
The start of the compilation was done by the pros of the scene: Alexey Borisov and project Bardoseneticcube presenting here their remarkable untitled tracks. At the time when Borisov is bursting the silence with abrasive gritting, cracking, drone, electronic interferences and buzzing turned in the second track into abrupt rhythmical constructions, team from St. Petersburgh calms the situation and makes the step towards atmospheric pads and hissings. Tracks add up to each other and serve as an excellent start for each of the two discs.
According to Thalamus's lists, the third is project DMT of Saratov musician Dmitry Talmatsky adding to the release his unique bliss. "Каннибализм" on the first disc penetrates straight into blood as a loop of very bright trip-hop rhythm, on the background of which there play and twist the patterns of abstract noise. It seems that rhythms seizes pulse and breath piercing through each cell of the organism which starts grinding and smell machine oil. After that track "Камбоджа" recorded on the second disc sounds much deeper and epic. Starting with anxious dark ambient, it suddenly speeds up with quick distorted rhythm which leaves unexpectedly almost the same way as it came and lets the listener stay confused for some minutes with measured step of electronic rhythm and rich mixture of abstract dark layers.
Work of projects Neizvestnost and Ganzer can be marked here as some "break". While previous musicians penetrated with pleasure into the structure of mental layers in human objects, these guys skillfully knocked out the whole intellectual mood. At the same time, if Ganzer at least supported the sound theme of compilation by the powerful, dirty noise mixed with the caught signals from radio air, then Neizvestnost stayed in memory due to the deliberate collages of unconnected sounds and boring speech samples with monotonous rhythms. "I'm tired with that stuff!" (translation from Russian) – repeated in the record of Neizvestnost on the first disc for several times. Symbolic phrase, it must be said...
The final part of both records is represented by musicians from projects Noises of Russia and Говорит Радио Космос, returning to the musical trip its deepness and mysteriousness. Psychedelic dark ambient on one scale and multi-layer energetic noise on the other. These sound substances exist very close, taking possession of each other and piercing into each other, leaving after
Thalamus III
friable, deep trace on the surrounding energetic field.