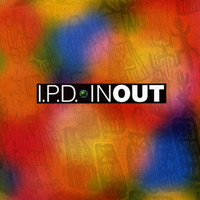 We proceed researching of the original releases from the Spanish label Geometrik records. This time the next in turn is album
In Out
created by the talented musician Justo Bagueste, which hid under unexpected original title of project I.P.D -
Inducing the Pleausure Dreams
. By the way, project's title authentically corresponds to its content, music too. Having turned up the first very track "Blow up", the first thought coming to my mind was that it would be a wonder. I haven't listened to such records which surprise and make one glad. The beginning of composition "Blow up" is an oddly familiar voice sample from an old film, cycled to its ending. Such songs, of no doubt, are the reflection of some another cosmic reality and can't help catching your heart. Beats and easily recognizable sounds of the legendary synthesizer Minimoog appearing in the composition arouse interest to further events taking part in this track. According to certain information this full-value album is planned as a sound flight through Madrid after crazy night. Listening to the next cosmic track "Dynamo II" it becomes clear that the idea of a flight is in fact far freer. Quite probably, it's a flight in fact but not through a real city but rather through its reflection in a parallel world. Too surrealistic sounds accompanying this free flight, it all sounds really infernally. And further we go, it gets more interesting. In music that's easy to draw parallels with creativity of Muslimgauze, also to hear the echoes of psychedelic motives and distinct usage of musical technologies. To understand what this release is about, for Russian listener it will be easier to imagine that it could be the soundtrack to the legendary film "Kin-dza-dza".
Exactly these parallels appear in mind when you are listening to such compositions from this album as: "Morgana", "Reflejos", "Overground". At once you imagine huge deserts of another planet, yellow sand, flying pepelatzes and abandoned building of unclear destination.
You can hear that Justo Bagueste and producer Suso Saiz made serious and colossal work in studio - in this world there aren't many records of such kind. A very interesting fact is that Justo Bagueste has been engaged in music for about 20 years already, he cooperated with many musicians and played extraordinary sound themes with his saxophone. While synthesizing live instruments and electronics, music starts gaining absolutely different futuristic shade not conveyable by words and language. And those who got really interested in this masterpiece can find it on their own, listen to it and set out for this incentive trip through the unknown psychedelic galaxies.
-
Geometrik records
-
Inducing the Pleausure Dreams