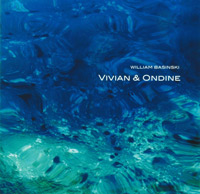 Years pass by, tendencies of musical industry, generations of musicians change, technologies develop... And in 2009
William Basinski
released on his own label 2062 record 92982 with music of 82 year, and several months later album
Vivian & Ondine
recorded in 2008. And what should you think? 26 years later it is still the same Basinski with recognizable and unique sounding - when amorphous waves of sound roll in one by one, five minutes, ten, twenty... And few changes during this time, though as long as one can watch the modest movement of waves on the sea coast, you can listen to this music. You play these two albums one by one and you even don't believe that there is such time gap between their creations. However, William still proceeds using the same tape loops in his creative work, manipulating very subtly with mood and color of the sound.
The new album is dedicated to small children of William's brother and cousin, and
Vivian & Ondine
are the names of these kids. To the sounds recorded on this disc it feels as if you were swimming under water, among rocking rare algae, slowly pulling your arms apart and moving further, deep into water spaces. In the surrounding warm palette shades of blue and green replaces each other by turns, very smoothly and delicately. And cycled sound of string ensemble is heard from the ocean's depth, more exactly its echo rolling in reverberations... Everything happens so as if waves themselves started playing music of water, music of natural calmness and conciliation spreading through all water spaces and is heard only here, inside of this mysterious blue-green universe.
William Basinski
is for sure an ambient-wizard of our time, and touches to his creativity can be compared to meditation. During many years the musician has his inimitable theme, his "inner pivot" - as my friend likes to say. And that is extremely important. It's far more important than audio design or trendy synthesizers and software.
-
2062