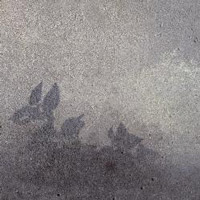 Project
d_rradio
has a little bit tangled title. It is read as "D. R. Radio" and stands for "deathrowradio". Gloomily and hopelessly at first sight, but if you think it over, well, what may be the radio of death row? What can it mean? Maybe the door to endless freedom, the last clap which lasts for eternity. Clap that stiffened, seized one moment, that very moment when all hopes, all ambitions, the whole life pass by before your eyes... The moment which you like to hold with all your strength.
Listening to 2-discs album
Leaves
, time after time I returned to these thoughts. This magnificent, oxygen-rich ambient with usage of orchestra samples is made very intricately in some places. In some moments music silently decoys consciousness to the net of sound, slows down the flow of thought, in the other places it catches the moment and fixes listener's attention at it. How? Very interesting - here loops and cycles. They are used almost the same way, as William Basinski skillfully makes it for many years. One wave and the next one... A little bit further and back again...
Leaves
catches mind to one point in time, to one event and holds this situation for a long time. Let's take for example track "Always Late" lasting for more than half an hour. At that moment I felt as if I were standing at the sea coast, like deadly ill heroes of film "Knockin' On Heaven's Door". Beach, waves, loneliness and the whole eternity in one short period of time and it's hard to overestimate its value.
It seems that with this very album
d_rradio
half-opened the door behind which there hides energy of project's title. Their previous records contained more beat-oriented music, simpler if we examine its emotional side. And
Leaves
is for those who will be caught by this album, risks to become deep gulp of fresh air, a ticket into yourself and your thoughts.
-
Symbolic Interaction