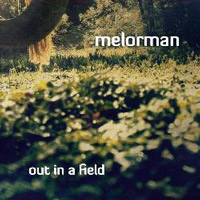 Pseudonym of Athenian electronic musician Antonis Haniotakis perfectly reproduces music created by him. In word "melorman" there's something of "melody" and "meloman", one can also see connection with "melancholy". This word itself is soft and melodious. In general, just looking at it, reading the title of the album
Out In A Field
and learning the disc's cover you can form expected primary impression by its content. Such extensive, very melodious Downtempo/IDM, while listening to which some similar releases by label City Centre Offices or albums of rather well-known project Boards of Canada can come to memory.
Disc released by Japanese label Symbolic Interaction is the first
Melorman
's release on physical medium. Before this event to his credit there were several internet-releases. In particular, this year CD was preceded by free 3-track EP Expressing Thoughts on net-label Archaic Horizon which can be considered as preface for
Out In A Field
.
The album starts with introductory track "Apricot Fields", inviting for a walk through wide field covered with green vegetation. The listener is to spend the nearer 40 minutes among these trees and bushes, listening to music which seems to be played by nature itself. And though drum loops are electronic, melodies played by synthesizers, and rare vocal sample wasn't left without proper arrangement.
On disc one can find true masterpieces, for example for me that are "5 O'Clock Spring Time" or "Tell Me More Stories", as well as more faded tracks having few individuality. They are pleasant on their own, but pass by like a sigh and hardly stay in memory. In tote,
Out In A Field
is one more disc for intellectual musical therapy for nervous disorders. Warmness and harmony of the whole material make it absorbing into music fan's nervous system 100%.
-
Symbolic Interaction