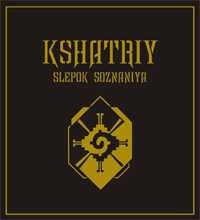 Kshatriy
is the project by musician from Vsevolozhsk not far from St. Petersburg. Earlier his records were released on CDr, and album
Slepok Soznaniya
became the first work released on CD, before it I didn't know anything about this creative unit. With his music
Kshatriy
creates space dark and dull as well as beautiful and interesting. In anxiously boiling sound lava there merge deep electronic drone, processed field records and also unobtrusive hissing, crack and other noise effects. Musician himself writes that his creativity "is based on the conception of warrior consciousness... galaxy warrior of light, bringing to the world clear consciousness, unlimited silence, absolute balance, a moment of force and power, a flight of freedom, love, serenity, gladness, light, common time, eternal life, simplicity and bliss...". These words sound as nothing else but an unequivocal hint at trips "inside yourself" and the state of trans provoked by music. And it is so.
Slepok Soznaniya
is a huge mental reactor with boiling up fragments of dark recollections, fused and crumpled into one heavy lump which dissolved all around in impenetrable swamp of its body. Rusty, smelling with dust and dampness postindustrial spirit spreads together with these sounds to colossal spaces around. Huge volume of theses spaces is one of the main special features of this music ruining all barriers inside the dark universe, and
Slepok Soznaniya
became a ticket to it. You peer into the darkness and don't see any limits, as if you have fallen under ground and found an alternative cosmos there. Beautiful, charming and sometimes even epic sound design making you hold your breath in long intriguing moments and make your heart beat quickly with resounding rumble and voluminous, heavy drone. It's worth to be heard.
-
Zhelezobeton / Muzyka Voln