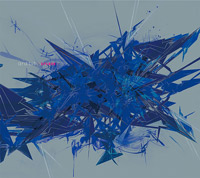 One of the releases by the Japanese label Symbolic Interaction in 2009 became the debut album
Spanon
by the Netherlander Ard Janssen representing here his alter-ego
Ard Bit
. Perhaps with his album Janssen demonstrated in general that music which appeared in the result of splitting out from IDM surface and its development in averaged variant has mainly in common the design of most sounds. Generally, nothing else but decoration part (audio and graphical).
What may we think having looked at the construction of patterns at digi-pack? Me is not me if the look of such a cover doesn't suggest an association with Autechre and their complicated IDM. Really complicated, in the finest sense of the word. But music of
Ard Bit
far simpler, maybe even too simple for such a picture. It's more "fashionable" unlike the tangled IDM labyrinths; this music will be understood and accepted by greater amount of people. In album
Spanon
there's everything to be liked by the fans of "progressive" electronics - powerful charges of bass-drum, buzzing of synthesized melodies, dense bass, quite much melancholy and space. And at the same time intellectuals will tickle the ears of their hearts with noisy elements met everywhere here and picture of compositions slightly complicated in comparison to music of masses.
During all 13 tracks
Spanon
rocks slightly with its beat, modulates with artificial synthesized textures from some dark space, glaring sometimes with splinters of glitch sounds. These tracks pass one by one and suggest the thoughts that cool professional sound design and thorough regulation of composition not always can be self-sufficient according to creative point of view. The debut album of
Ard Bit
is bright and beautiful; it's finished and right, exactly like it is. But it's too stereotyped, as if done by textbook.
-
Symbolic Interaction
-
Ard Bit