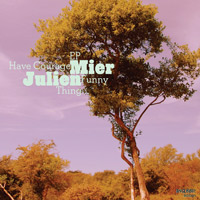 Now, when it's winter outside, and the snow has hidden the houses' roofs, deepening into new release INQB8R is a great pleasure. It's like finding a door into summer, opening it slightly and hiding among green grass under the bright sun. So warmly and very sincerely will sound music of the Netherland musician
Julien Mier
living far away in a house among dunes at the sea coast.
Have Courage Funny Thing
is a short record though very valuable because of its sincerity and performing.
The author of this piece of art is
Julien Mier
- a young progressive musician studying at School of Music and Technology in Netherlands and recording music of various genres, not limiting himself in the frames of definite style. Well, that's fine. The wider iinner perception is, the more freedom one can hold with him, hide and present in his creativity.
Turning on the first track "Little Footsteps" you understand at once how close music is to a listener, you can just hold your hand for it, and like haze it fills the inner world with its notes and voices. This record can even slightly remind of albums Savath & Savalas - project of Scott Herren from Prefuse 73. But here everything is much more deeper and cozier, for example in the second composition "The Misty Barn".
"Letter To Anna" is one of the favorite compositions of this mini-record - breathtaking, catching melody, touching the strings of heart; idm-sounds, that's impossible to pass by. It's the same as to pass by warmth, light and inner feelings without noticing it. Well, as it often happens. And the album is finished by track under the title "Goodbye You Float Well" we haven't heard such delicate work at melodies, arrangements and soundings. I'd like to listen further.
Very interesting fragment of text on the site of label INQB8R:
"As we know, Julien tried to submit this recording to the giant indie publisher "Morr", but they denied it. Cock of the walk, babies, we're happy you've kept the real art free for us!"
. Who knows, maybe you'll have to stay here for long - winter is just starting!
-
INQB8R