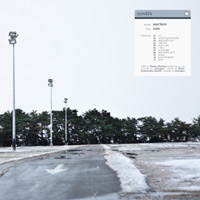 Net-label Zymogen proceeds gladdening fans of interesting electronic music with original releases. Recently album
Sum
by Tilman Ehrhorn became the 24th one in their catalogue. Tilman presents here under his new, not used earlier pseudonym
Werken
.
Listening to this music, I would say that creativity of Erhorn as an electronic musician has not cardinally changed since 2003, when his remarkable album Task was released on label Mille Plateaux. I think that this album is one of the best reflections of such influence as clicks'n'cuts - music of clicks, rustles, various glitch, cut into tiny pieces by quasiscissors and presented in the form of contrast mosaics of sound pieces. Though under his new alter ego Erhorn manipulates these scissors in another way - the structure of sound cuts' constructions gains more grace, gives way to the free experiment and to the flight of an artist's fancy. Here we can remember that the author of music works actively as a jazz musician. Techno is still somewhere near, we can feel its unique spirit, though connection with it became very thin and transparent.
That's impossible not to point out the first-class sound design in this interesting release. The whole spectrum of sounds in
Sum
was produced with the help of synthesizer Nord Modular - from tiniest clicks and crackle to bass-sections, noises and slow pads. Mosaics of synthesized sounds form by themselves the matt layers, some of them are very cold, the other are considerably warmer and brighter. They are changed by the next ones for many times and there are enough events for a full-value long-play.
-
Zymogen
-
Tilman Ehrhorn