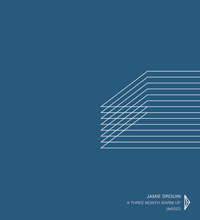 Album
A Three Month Warm Up
of Canadian audio designer
Jamie Drouin
released by label Dragon's Eye Recordings in summer 2009 has in its basis 124 field records made during three months in suburbs of Victoria (British Columbia, Canada). Thorough filtration comparable to getting of sound essence, led the initial sounds to the state when they convey their gist, their nerve. Jamie weaved with them layers putting several of them into general mix, varying in such a way the color of ambient canvas which sends to open space. Cosmos = silence? Nothing of the kind. Here he meets with moire drone ambient and you become a point, pixel lost in its endless darkness. Placers of planets around radiate unique sounds forming permanent drone. It seems that it never calms down and will last till there is life on these planets.
Is it really space? Maybe yes, and maybe no. We've already heard such stratified sound works for many times. Today it's cosmos, tomorrow - a snowdrift among wild forest, after tomorrow - night swim through sea smooth towards the horizon dying out. The thing is in associations generated by mind, in pictures that are drawn by our imagination while contact with abstract art. Such records as
A Three Month Warm Up
sound charming enough to paint even more association scenarios of trips through your inner worlds.
-
Dragon's Eye Recordings
-
Jamie Drouin